An interview with Marion Callahan on the game "INTENSITY"
Mia: How did the Game "Intensity" arose?
Marion: For years, I have felt the need to give people easy and playful access to personal development work. And what could be better than developing a game? In early January 2017, the first ideas landed in me. I did not hesitate for long and started to implement my ideas. I gradually got the materials and made a prototype. Then I started playing the game with others, each time receiving feedback from the other players. To my great pleasure, the game met with great response right from the start. For four months I played it around 20 times with different people. The feedback I received on the game was worth the gold, so the game came on the market in May 2017.
Mia: What is the purpose or intention of the Game?
Marion: Intention of the game is to create a heart-connection and to get to know yourself and your co-players in a new different light. Caused by the-questions-made and tasks, during the game-play, finest impulses of your intuition are channeling-up to surface. Caused by the all players engaging on each other it is creating closeness and the communication becomes more attentively and mindful.
Mia: Why the Game is named "Intensity"?
Marion: The Game was named "Intensity", because it honors the name. When real encounter is happening, it can get intensely.
In every level experiences-intensity is going to be created, which for many is new or more rarely usual in today`s world.
In the age of Youtube or Facebook the feeling of closeness is not arising by technical Likes, although by real-perceived personified experience. "Intensity" opens a touchable room that will bring you to feel. There can be sadness, anger, fear and happiness, coming-up-high.
Mia: What is happening during the Game? What can I, as a player, do, learn, experience?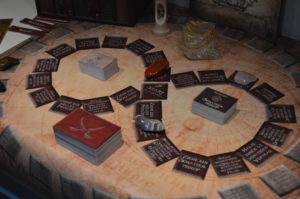 Marion: As a Co-Player you`re experiencing a deep and real level of togetherness. Because of talking things out while playing, movement and healing get into your Life. It is enabling extraordinary reflections about yourself and others. Perspectives can be changing surprisingly. The cube determines the field you are reaching.
You could drag a dangerous question, par example:
Where/when, in your Life, you do say "yes", when you mean "no"?
How are you keeping your partnership lively and nourishing for both sides?
What do you absolutely like to experience or create before you die?
You could pull a "shadow-principle" and explore, in a safe space, where you maybe are unconsciously acting:
How is about your unconscious shadow-sides?
How are you serving selfishness, hostility, manipulation, know-it-all in your life?
You could pull a "light-principle" and show you yourself in real (true) magnitude:
Can you stand in the power of "light-principles" and explain open and credible how respect, clarity, love and team-spirit are working through you?
Intensity is offering other exciting tasks, but I wouldn't like to reveal too much…
Mia: Is the Game also available for people who never heard of Possibility Management?
Marion: Although "Intensity", arose of the context of Possibility Management it can be played by everyone. I successfully had playing it with my mother and my son, who was 13 years old back then. Though my son was been excited back then I recommend the game to be played by the age of 15 because a little life experience definitely helps."Intensity", is designed for 2 to 6 players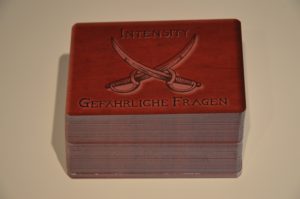 Mia: Why should I try out the Game?
Marion: If you do like to experience extraordinary moments with your friends, "Intensity" is a brilliant approach. If you are interested in Possibility Management and didn't have had any trainings yet, "Intensity" is a gentle and playful getting in. A training participant told me that she has been waiting for this for a long time, because her friends, whom she can hardly tell anything about the trainings, also enjoy playing the game.Some Possibility trainers have started offering Intensity game nights on a regular basis. If you would like to offer some extraordinary games evenings for others, contact me and I'll announce your game nights on my website.
Mia: How and where is the game available? How much does it cost?
Marion: The game costs 250 Euros and is currently available directly from me. You can order it through my website www.intensitythegame.org.
Mia:  Thank you for the interview.
Marion: Thank you for your questions.