After the online premiere
Around 1000 people tried to join our online premiere at the same time. Wow!
We were not prepared for such a high demand and the server reached it's limit. Still, we are very grateful and it shows that there is a high demand on holistically solutions, now.
Such important information need to be spread and such solutions need to be implemented. That's why we do this kind of work and that's why you can watch the documentary free of charge now.
Foretaste of the documentary CircleWays
A new culture of connection
Information, videos, communities, camps, workshops
Our Online-Shop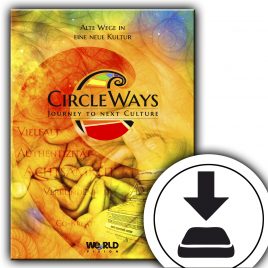 CircleWays – Film Download
CircleWays - Journey to Next Culture
Are there alternatives to social solitude in our modern culture? Are there other ways in which we can come together as human beings? Is it possible to align our coexistence and togetherness with values such as connectedness, mindfulness and co-creativity?
We have set out across Europe to find answers. We learnt from ancient wisdom of indigenous peoples as well as from modern knowledge of psychology, neurobiology and experimental community laboratories. This film is (not) a documentary, but a way of living. A journey along ancient paths into a new culture.
Charles Eisenstein, Manitonquat, Gerald Hüther, Clinton Callahan, Gabriele Seils, Barbara Strauch and many more.
Playtime: approx. 75 minutes
Format: mp4
20,00€
Add to cart