Glad you're here!
The online premiere take place 22nd October 2020 at 7 pm (GMT+2).
Take a look around if you want to know more and come back later 😉
With love, heart and mind,
Nora and Martin

Join the free video conference including the filmmakers, interviewees and people all around the world.
We will watch the documentary all together online.
Just enter your name for the chat and click on "JOIN"
Support us and our work
We are crowd financed - without a community there could have never been this film. Together, let's bring more solutions into the world and spread them. With your support, you will make it possible for us to produce more content, interviews, and documentaries about the next culture.
Donate

10.000 communities creating a regenerative future
Under the radar of modern mass media, a movement is gaining momentum and people, communities and governments all over the world are interested in cooperating with and learning from them. The experience of the ecovillage movement sets an example for making progress while caring for the environment and the future of our planet.
Sustainable settlements already exist on all continents. Today, more than 10.000 of them are part of the Global Ecovillage Network. By connecting, educating and advocating, they offer many examples, tools, and blueprints for a future worth living.
A different world is already possible, now.
What impact will you make?
Our offer to you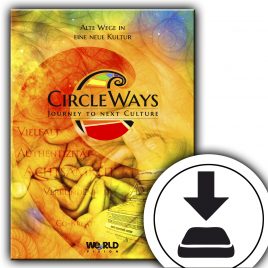 CircleWays – Film Download
CircleWays - Journey to Next Culture
Are there alternatives to social solitude in our modern culture? Are there other ways in which we can come together as human beings? Is it possible to align our coexistence and togetherness with values such as connectedness, mindfulness and co-creativity?
We have set out across Europe to find answers. We learnt from ancient wisdom of indigenous peoples as well as from modern knowledge of psychology, neurobiology and experimental community laboratories. This film is (not) a documentary, but a way of living. A journey along ancient paths into a new culture.
Charles Eisenstein, Manitonquat, Gerald Hüther, Clinton Callahan, Gabriele Seils, Barbara Strauch and many more.
Playtime: approx. 75 minutes
Format: mp4
20,00€
Add to cart